JEUDI 10 AVRIL 18H
INÉDIT À GRENOBLE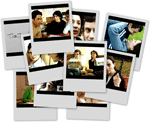 Comment faire un enfant lorsqu'on est un couple
lesbien ?
C'est la question que se posent Sasha et Maya qui
souhaitent devenir parents. Tout le problème est
de trouver un donneur de sperme. Cela doit être
plus facile pour les hétéros, pense Sasha, mais
l'est-ce vraiment ? Insémination, adoption, amis,
rencontres ? Sasha nous entraîne avec elle dans les
pérégrinations de son couple dans sa recherche.

Quatre ans après Do I Love You, Lisa Gornick a mûri
et ses personnages aussi. Toujours avec la même
verve et l'introspection qui la caractérise, les
questions qu'elle se pose passent de sa vie à une
dimension plus générale. Fraîcheur et amusement
accompagnent son nouveau film et nous emmènent
dans un touchant voyage auprès des femmes et du
désir d'enfant.



Un grand merci à Cineffable,
Festival International du Film
Lesbien & Féministe de Paris
pour la fourniture des sous-titres.

Un film de Lisa Gornick
avec Joanna Bending, William Bowry, Jake Canuso,
Raquel Cassidy, Lisa Gornick, David Lazenby, Matthew
Parish, Sarah Patterson, Sam Spruell.
Grande Bretagne, 2007, 73 minutes, VOSTF, Beta.
Distribué par Lisa Gornick.
---
Tick Tock Lullaby
Butch-y artist Sasha and her attorney girlfriend Maya's heterosexual procreation envy are contrasted with a pair of other baby-making stories: A single female photographer who wants a child (but not a relationship) sleeps around with a series of young clueless guys while her coupled sister and her boyfriend entertain doubts (and sex and intimacy issues) as they try to make a baby the old-fashioned way. Sasha's intimate confessions and endearing neuroses touch a lovely, vulnerable nerve as do her tremendously thoughtful reflections on love, sex and intimacy in this bracingly honest, beautifully made British feature from the director of sexy rom-com Do I Love You?