SAMEDI 12 AVRIL 22H
INÉDIT À GRENOBLE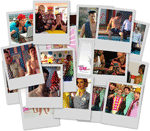 Quatre lycéens puceaux font le serment de perdre
leur virginité avant d'entrer à la fac. Muffler, dite
La Touffe, étudiante de choc experte en pompom
girls, va organiser une soirée qui devrait leur
permettre de rencontrer quelques beaux mecs.
Leur maladresse fera tout foirer et ils recevront les
conseils les plus farfelus de leur entourage pour
arriver à leurs fins.

Another Gay Movie est un teen-movie qui, tout en
respectant les lois du genre (on trouve le binoclard,
le fan de cinéma indépendant, le capitaine de
l'équipe de base-ball et le gentil-garçon-à-samaman),
parodie tout ce qui a été produit à
Hollywood ces trente dernières années, de Carrie à
American Pie version queer.
La comédie la plus (dé)culottée de l'année qui frise
toujours le bon goût sans jamais tomber dedans.
Un flm de Todd Stephens
avec Michael Carbonaro, Jonah Blechman,
Jonathan Chase, Mitch Morris, Ashlie Atkinson,
Scott Thompson, Graham Norton, Stephanie McVay,
John Epperson, James Getzlaff, Darryl Stephens,
George Marcy, Joanna Leeds.
États-Unis, 2006, 92 minutes, VOSTF, 35 mm.
Distribué par Équation.
---
Another Gay Movie
In a world where being gay is a non-issue and losing one's virginity has become top priority, a spoof about four high school graduates, on their way to college, who are aiming to lose their virginity by the end of the summer with the help of their chick-magnet, lesbian gal pal, Muffler.